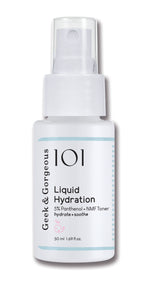 Geek & Gorgeous
Liquid Hydration Mini Mist
A limited-edition, 50 ml version of Liquid Hydration toner spray with 5% Panthenol + Natural Moisturising Factors (NMF) to hydrate & soothe all skin types.
Liquid Hydration Mini Mist contains the exact same ingredients as Liquid Hydration, but comes in a travel size mist packaging, perfect for on the go. 
Enjoy Liquid Hydration Mini Mist for free with your order over 30 EUR (excluding shipping fee) until the 14th of April 23.59 pm (CEST). Valid only for orders placed on geekandgorgeus.com/sk/de. Discount will be applied automatically at checkout. 
Please make sure that the Mini Mist has been added to your cart before proceeding to checkout - if the cart gets reloaded before checkout, the mini gets removed.
If you leave your cart unfinished for a while, the promo code will be removed, so if the system wants you to pay for the gift, please enter the GEEKSURPRISE promo code manually at checkout. 

Important note: this discount cannot be combined with any other automatic discounts, so you won't be able to enter a code if an automatic discount is already applied at checkout.
Adding product to your cart